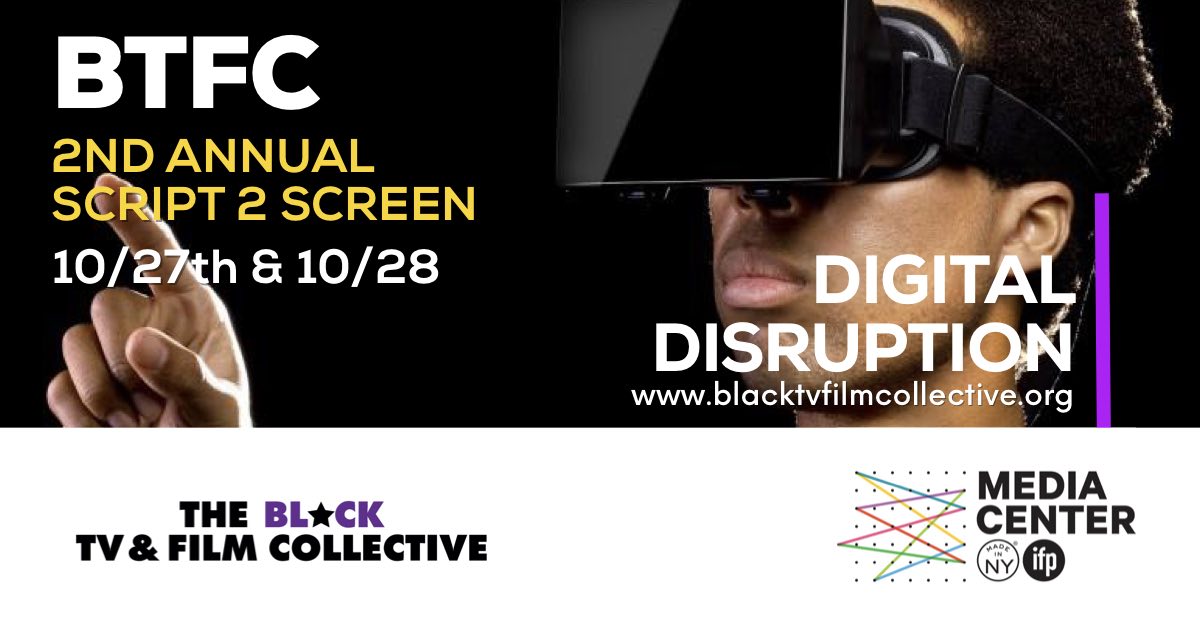 2018 Script 2 Screen Weekend: Digital Disruption
The Black TV & Film Collective is very excited to present its 2nd Annual BTFC Script to Screen Weekend. Script to Screen is an opportunity for content creators to advance their projects through a series of workshops, panels and networking opportunities over the course of two full days. This year, we're focusing on the technologies and innovations that are fundamentally changing film, television, and digital media.
Keep your eye out for more information, but here is a summary of the line up below:
Saturday, October 27th, 2018:
Day one will focus on development and pre-production. There will be a total of four sessions, followed by a Content Creators Mingle @ Randolph Beer.
11 am – 12:30 pm | Fundraising: Leveraging Digital Technologies
1 pm – 2 pm | Digital Disruption – Mobilephone Storytelling
2:45 pm – 3:45 pm | Comedic Storytelling in a Digital Environment
4:00pm – 5:30pm | Drone Filmmaking: A Conversation on Drone Filmmaking
5:30pm – 8:00pm | Content Creator's Mix & Mingle @ Randolph Beer located at 82 Prospect Street (between Pearl and Jay Streets)
Sunday, October 28th, 2018: 
Day two will focus on production and post-production. There will be a total of three sessions, followed by a final talk.
10:30 am – 12:15pm | Live Streaming: the Rise of the Technical Director
12:30pm – 1:45pm | Virtual Reality Storytelling
2:30pm – 3:30pm | Post-Production: Cloud Based Collaboration 
4:00pm – 5:30pm | The Future is Still Story. The Future is Us: Screening & Q&A
Save the date! For more information or to volunteer email us at [email protected].