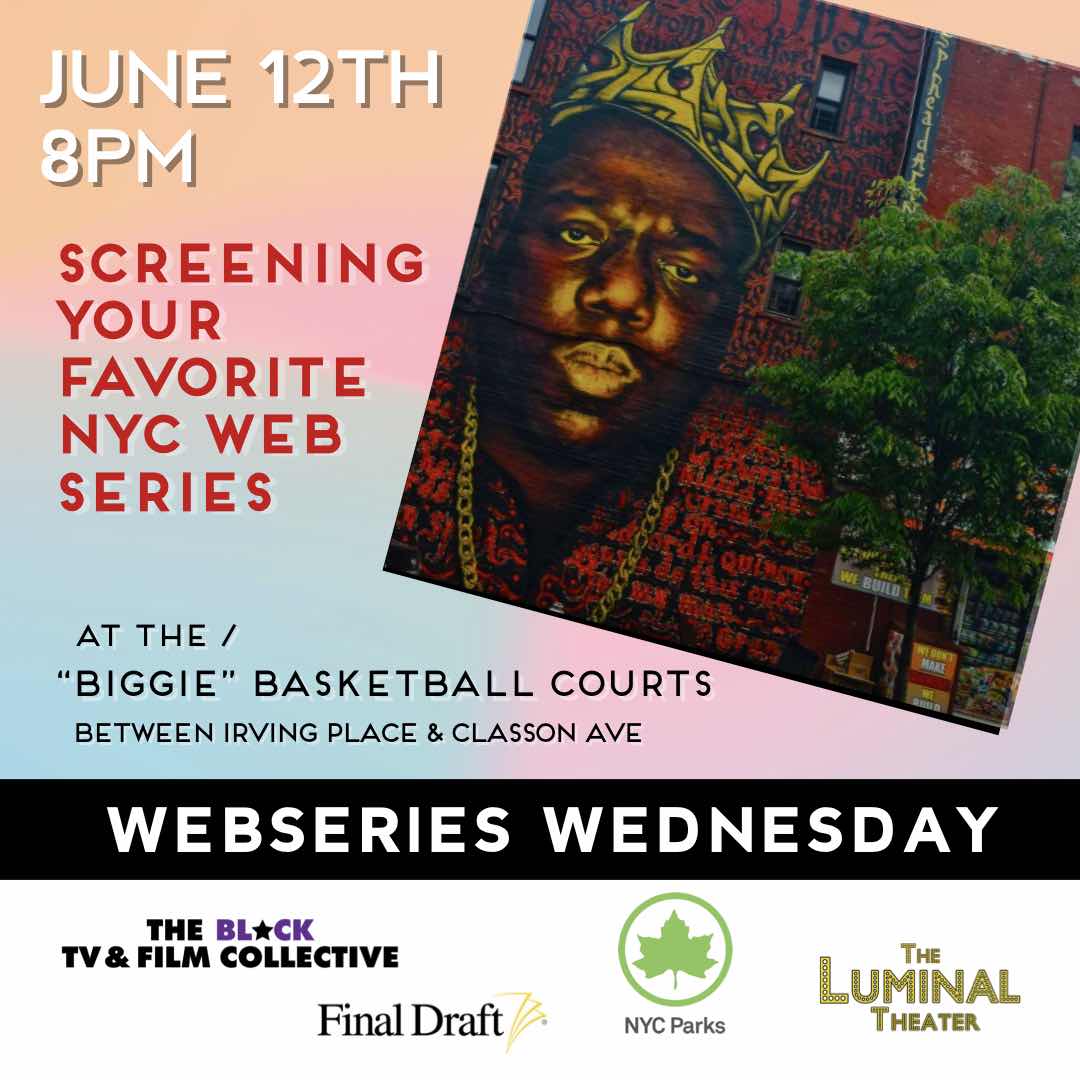 BTFC & NYC Parks | Web Series Wednesday TAKEOVER
Join us for a NYC PARK TAKEOVER for Web Series Wednesday!
The Black TV & Film Collective (BTFC) is teaming up with NYC Parks, Final Draft and the Luminal Theater to champion the work of under-represented voices in television and film by screening web series from your favorite NYC filmmakers.
The screening will be preceded by an introduction of the filmmakers and a short talk on the creative process. As artists we have to fight exceptionally hard to find not only the resources to make our work, but also a sustainable financial foothold as professionals that will allow us to continue to make future work. A big part of that journey is finding venues to screen and opportunities to attract attention as artists. We're exceptionally excited to collaborate with NYC Parks, Final Draft and the Luminal Theater for this unique opportunity.
Want to submit your work? It's easy, submit via Film Freeway STARTING TUESDAY, May 21st:
by Wednesday, May 29th at 5pm EST.
Important Details:
Screening Date: Wednesday, June 12th
Screening Time: 8PM – 10:30PM
Location: 1030 Fulton Street, Brooklyn, NY @ the Christopher "Biggie" Wallace Basketball Courts in Brooklyn, NY
About the BTFC: The Black TV & Film Collective (BTFC) is a 501c3 non-profit organization based in Brooklyn, New York with the mission to increase opportunities for artists of color in film, television and digital entertainment. The BTFC offers professional development classes and workshops, relationship building events and production support for over 1200 members across New York City.
About NYC Parks: NYC Parks is a steward of more than 30,000 acres of land – 14% of New York City – including more than 5,000 individual properties ranging from Coney Island Beach and Central Park to community gardens and Green streets.