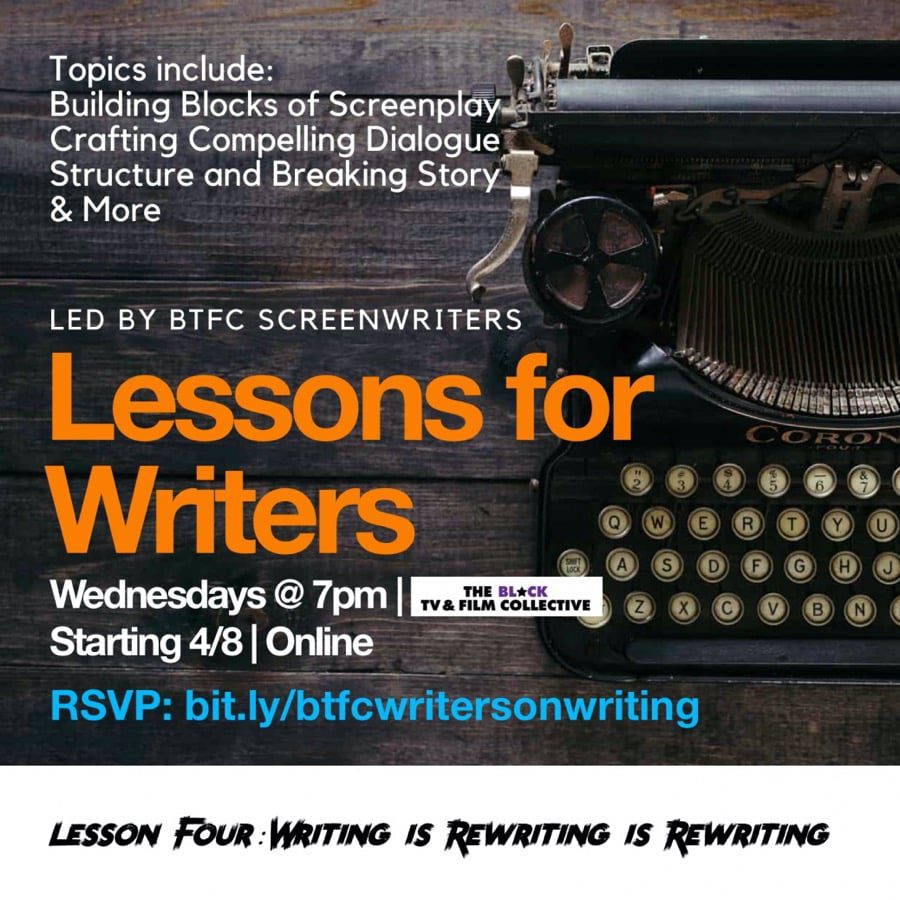 Screenwriting Lesson Four: Writing is Rewriting
Lesson Four in the BTFC Screenwriters: Lessons for Screenwriting series focuses on how Writing is Rewriting, How to Tackle Rewrites.
We're offering online screenwriting lessons led by BTFC members Laura Fielder, Rodra Burruss and Letitia Guillory. Throughout the month of April, we are exploring a variety of topics from the basics like building blocks of a screenplay to the more advanced like structure and breaking story. So grab your pen and your paper and get ready to master the art of writing.
Lesson 4 is an expert session with Ela Thier and Huriyyah Muhammad.
Here's a clip from Creator of Luke Cage, Cheo Hodari Coker. In the clip below he shares his process for writing:
Wherever you are on your screenwriting journey, check out this series.
Also if you have pages you'd like table read, send us a note to [email protected] and we will help put together a reading!
Check out Ela's 5 principles to revising a script.
ABOUT ELA THIER
Ela Thier is an Israeli-American filmmaker, known for creating fresh and uplifting comedy dramas.
Thier's critically acclaimed Tomorrow Ever After (2017) won major awards, including "Best American Indie" at the Fort Lauderdale International Film Festival, and received positive reviews in major papers. Her award-winning feature, Foreign Letters, distributed by Film Movement, has shown at hundreds of festivals. Thier has also written and directed over a dozen short films winning numerous Best Short awards. Her short film, A Summer Rain, has become a YouTube sensation.
Thier worked as a writer-for-hire on Puncture (2011), starring Chris Evans, and The Wedding Cow (2000), which won 18 festival awards.
Thier is the recipient of the Jerome Foundation Production Grant and a grant recipient in screenwriting from the New York Foundation for the Arts. She independently teaches popular screenwriting and filmmaking courses under the alias of The Independent Film School.
​
Thier lives with her husband, Evan Gluck, a bass player who runs a guitar repair shop out of their home in New York City. When she's not producing a film or teaching, she participates in peer counseling groups focused on healing from the emotional scars of racism, sexism, and other social oppressions.
[kleo_divider type="full|long|double|short" double="yes|no" position="center|left|right" text="" class="" id=""]

Schedule:
All online – In order to participate in the entire series, please be sure to register for each screenwriting lesson session.
Lesson 1: Wednesday, 4/8 @ 7pm: The Building Blocks of a Screenplay
Lesson 2: Wednesday, 4/15 @ 7pm: Crafting Compelling Dialogue
Lesson 3: Wednesday, 4/22 @ 7pm: Structure and Breaking Story
Lesson 4: Wednesday, 5/20 @ 7pm: Writing is Re-Writing How to Tackle Rewrites
Like this event? Check out other upcoming events and member opportunities.