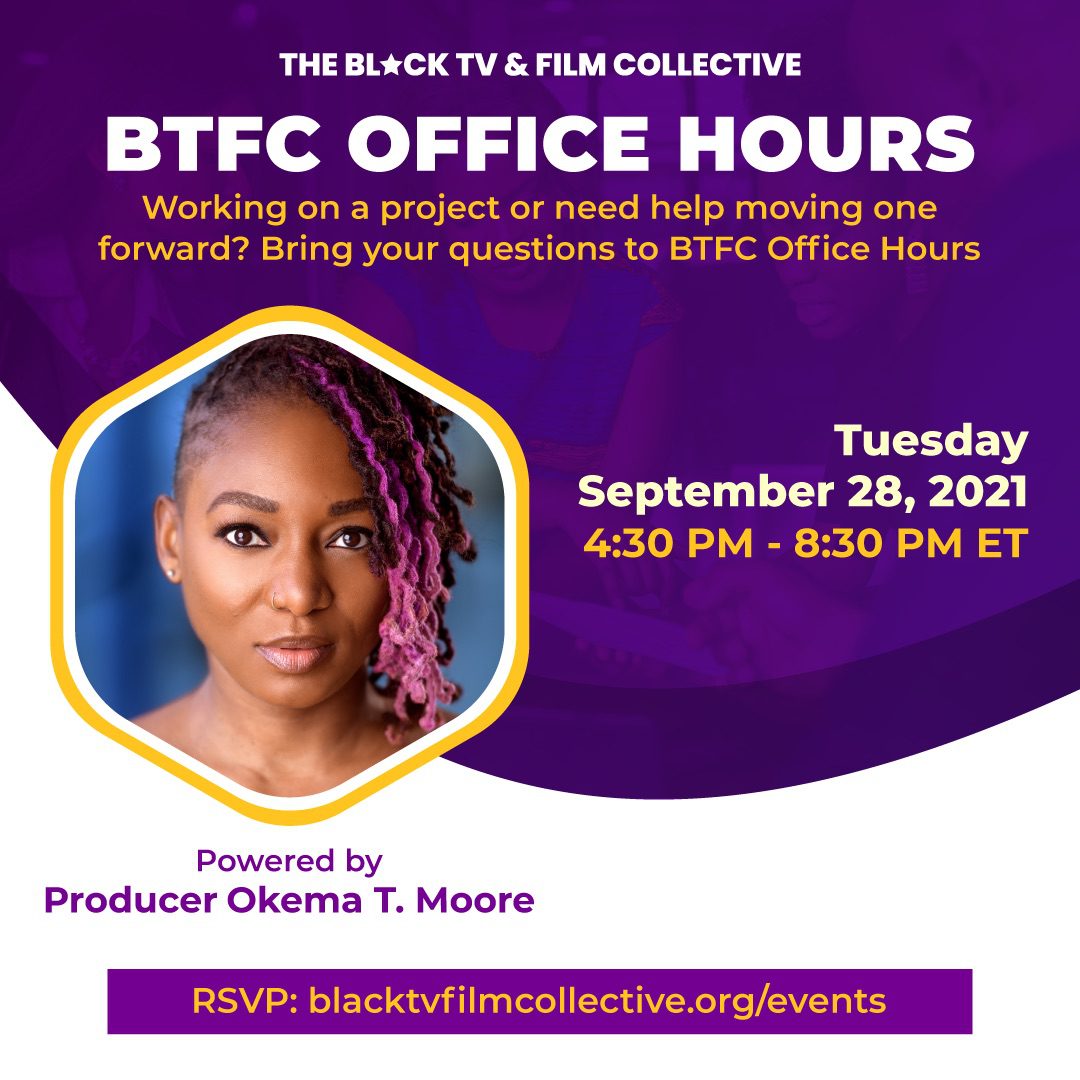 Office Hours: Get Help On Your Projects
BTFC office hours are good for health – the health of your projects that is. Chat with BTFC Board Member and writer, director, and 2021 producer Emmy-nominated producer (UnladyLike 2020) Okema T. Moore about your project! During Office Hours we do our best to offer insight and feedback that can help push you forward!
For artists, isolation can be deadly to projects. In fact, it stops many projects before they have even fully begun. BTFC Office Hours were implemented to combat the isolation that we all sometimes fall victim to. During office hours we'll answer general production questions and provide an environment where you can come in and work on your projects in the company of others.
How can we better describe them? It's an open door for any member who would like to just come in and ask a question. Get a second pair of eyes on a rough cut, get some help on budgets, use a computer, work in the company of others. Remember back in the day when our professors had office hours and you would just go in to ask a question or get some help? That is what these office hours are like. You might have us all to yourself, or there may be one or two other filmmakers in the line ahead of you.
Join us to talk about your projects and ideas, so that you're better equipped to move them forward. It's all-time well spent.
NOTE: 40-minute slots will be assigned on a first RSVP basis. A zoom link will be sent to you 48 hours before your session. Please block out 4:30 – 8:30 PM ET on your calendar until your slot is received.
About Okema T. Moore
Okema T. Moore is a seasoned producer, writer, and director who started as a child actor on Sesame Street, cultivating quite a life of experiences since then. These experiences include sharing an EMMY Nomination for a PSA she AD'd, produced and voiced, premiering as a digital series producer at Tribeca Film Festival's Tribeca N.O.W. 2019, producing the NAACP nominated doc series UNLADYLIKE2020 for PBS, and producing the American Black Film Festival 2019 Best Web Series, Little Apple. She can be seen as a hologram in Brian Stevenson's Equal Justice Initiative Legacy Museum in Montgomery, AL, and in successful web series such as Makeup X Breakup and the Emmy Nominated Pillow Talk.
Behind the scenes, Okema holds a BS in finance and business from Brooklyn College and a Producing Certification from NYU's SPS. A member of the Board of Directors of the Black TV & Film Collective, Okema leads Programming.