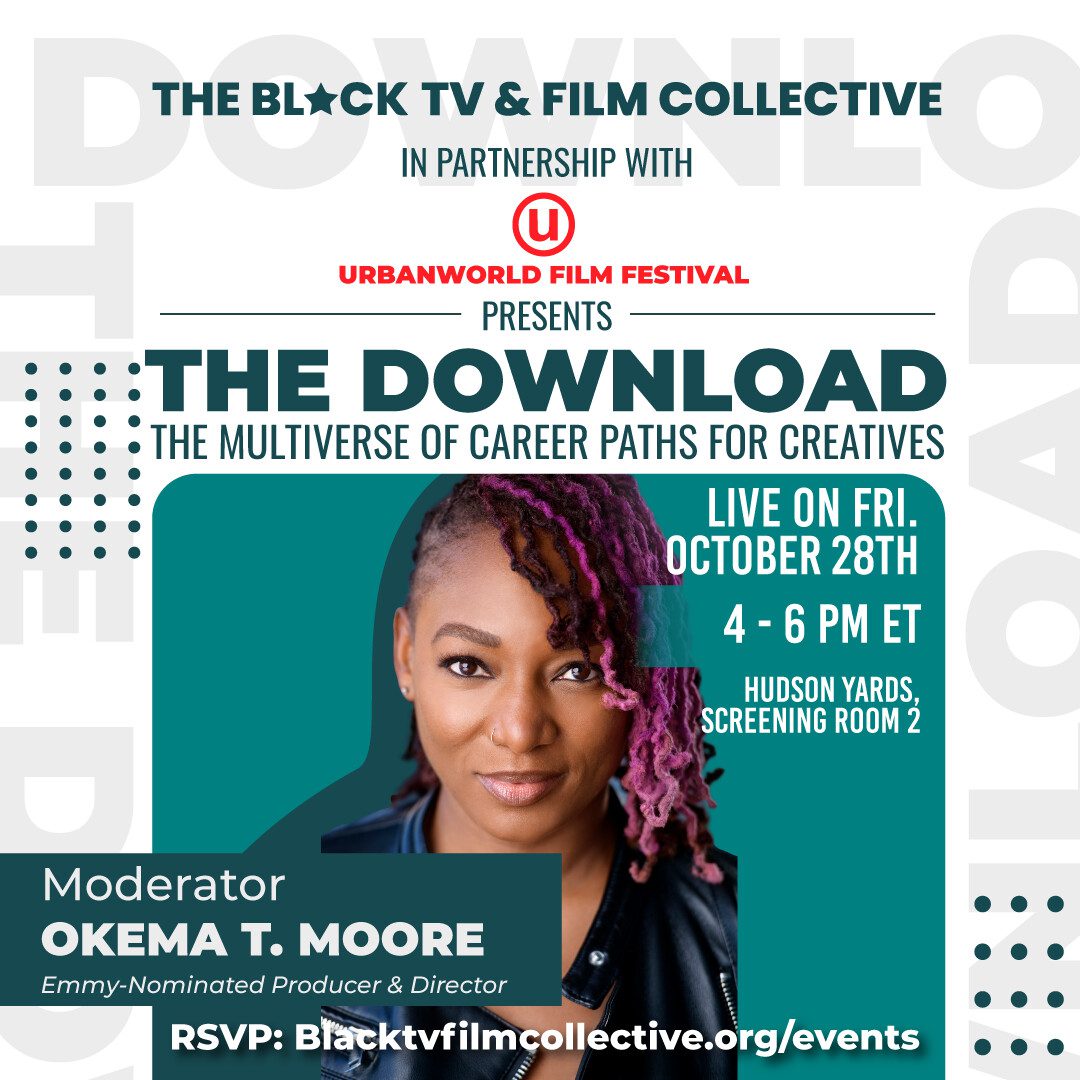 The BTFC Presents The Download LIVE in New York
*Seats are limited. No tickets will be sold at the door. Vaccination required, masks are optional*.
On Friday, October 28th at 4:00 PM ET, join us for another edition of The Download LIVE at the Urbanworld Film Festival in New York City!
The BTFC and the Urbanworld Film Festival are partnering up to host a conversation that highlights the multiverse of paths creatives can take to build a career in TV & Film. 
Meet Our Moderator
Okema T. Moore is an Emmy Nominated, PGA producer and rising director. She produced the narrative 2019 ABFF winner Little Apple, and The Future is Then, which was a Tribeca N.O.W. 2019 selection. She has directed and produced branded content for clients including Lifetime, Netflix, Nickelodeon, DreamWorks, FOX, and Disney/Marvel. Her most recent work includes docs The Color of Care (OWN), UNLADYLIKE (PBS/American Masters) and Klutch Academy (BET), as well as culinary hits The Kitchen and Beat Bobby Flay (Food Network). She Showran and Directed her first series in 2021, Hella Late! with Hollie Harper (BRIC TV), and was a finalist in this year's Blackhouse Producer's Lab, as well as a semifinalist Stowe Story Lab Diverse Voices Fellowship, the Commercial Diversity Director's Program and The Sundance Producer's Track for 2022. In 2021 Okema was a Fellow for Minority in FILM's inaugural 2021 Branded Lab for directors while helping to run the Black TV & Film Collective's Black Producer Fellowship. Okema serves on the boards of both The Black TV & Film Collective Board of Directors and NY Women in Film & TV and is committed to continuing to lift while she climbs to build up womxn, queer, IPOC and Black creatives.
Meet Our Panelists
Luis G. Santos
Luis G. Santos was born and raised in the Bronx, NY to a hustler business-man Father and a white-collar worker Mother who's a closeted writer. As a child, Luis observed his father's strong business acumen by day, & snuck around the house to find his mother's beautiful-yet-hidden writings at night. This juxtaposition is what sparked Luis' obsession with developing a strong business sense and his never-ending dedication to perfecting his artistic craft.
While writing & directing his own short films in hopes of developing projects for TV & FILM, Luis climbed the corporate ladder – starting an internship at 72&sunny and later producing at Mother NY, McCan, & VEVO. This collection of experiences has helped Luis attain a deep understanding of how to excel as a director, writer, and producer in Film, TV, & Commercial productions while also enabling him to properly understand the corporate structure firsthand. Luis has also carved a lane for himself in the Music & Live entertainment spaces, directing work for artists such as Future, Jessie Reyes, Pusha T, Latto, & many more.
Artesia Balthrop
For over a decade, Brooklyn‐bred film/television/video producer Artesia Balthrop has racked up a laundry list of credits working on a variety of projects at flagship media brands like VH1 (Hip Hop Honors, Storytellers, The Great Debate), Bravo (Kandi Factory), TLC (Next Great Baker); E! (Kourtney and Kim Take New York); Essence magazine's award-winning website ESSENCE.com, and with JAY-Z on his award nominated YouTube channel, Life + Times. Her present works finds line producing for Comedy Central's Hell Of A Week w Charlamagne Tha God and Eyes On The Prize (HBO). She has also Executive Produced the independent short African BootyScratcher (2008, dir. Nikyatu Jusu); which premiered at the American Black Film Festival and was licensed by HBO for their Black history month collection. She also produced the viral documentary Where I'm From on JAY Z's inaugural concert series to open the Barclays Arena. Ms. Balthrop attended Duke University, where she majored in Public Policy. In her teens, she learned to embrace key Quaker values like simplicity, equality and community by attending The Brooklyn Friends School. She now imbues her visual projects with similar ideals, and is a staunch proponent of using film and television as a storytelling tool.
The Download
Offered multiple times a year, The Download is a special virtual guest conversation series hosted by the Black TV & Film Collective. It features impactful filmmakers who provide insider knowledge to help Black creatives do their work.
First, our guest participates in a 1:1 conversation with our host about their journey and current career.
Then, we provide selected BTFC members with an opportunity to take a seat at the table with our guests and ask questions and advice of this industry veteran. In turn, our members are provided with an opportunity to engage in conversation with someone whose career might inspire them. Those who attend are also further encouraged and motivated to make their work! Recent guests on The Download have included Aaron Rahsaan Thomas, Charlene Polite Corley, the editing team of A Black Lady Sketch Show and Janine Sherman Barrois. 
#MakeYourWork
Join us at this edition of The Download and get the information and inspiration you need to #MakeYourWork! RSVP today!
Questions? Contact [email protected].
Interested in becoming a member? Sign up for our BTFC Membership!
*Seats are limited. No tickets will be sold at the door. Vaccination required, masks are optional*.