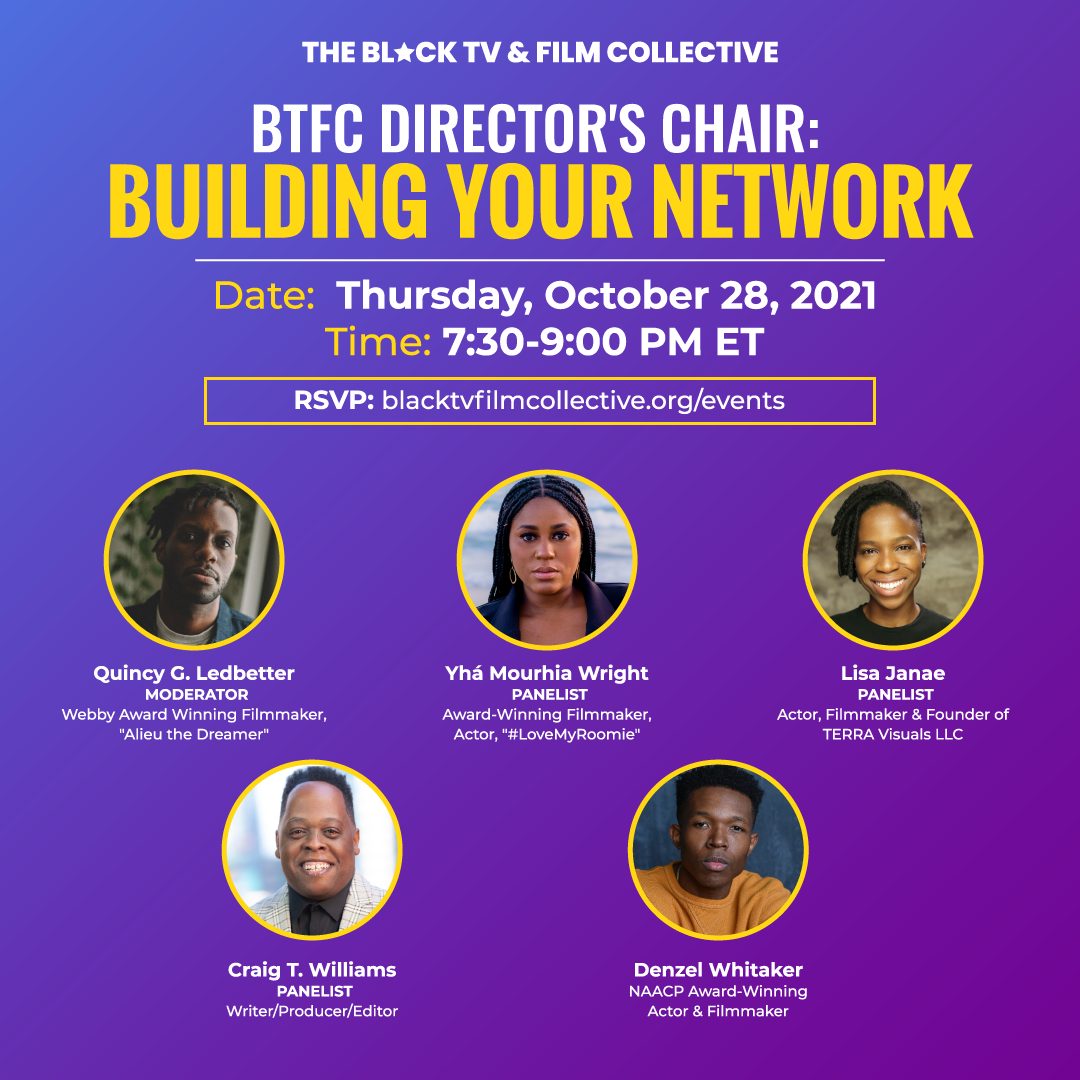 Building Your Network
On Thursday, Oct. 28th at 7:30 PM ET; join us for another conversation on directing – and this time, we're talking about building your network – and netWORTH! 
Building your network can be trivial if you're unsure where to start. Is film school still a better option than going the unorthodox route? How do you distinguish yourself – better yet, how do you even find your voice and brand in such a saturated market? We're taking the guesswork and self-doubt out of your journey with this panel of creatives who have taken different paths in their journey – but all meet here at the BTFC Director's Chair!
This panel will be moderated by award-winning filmmaker, musician, photographer, and artist, Quincy G. Ledbetter (Director, 2021 Webby Award Winner "Alieu the Dreamer"). Quincy will be joined by other multi-hyphenate creatives who have chartered unknown territory but are still Making Their Work! This panel features Denzel Whitaker (NAACP Award-Winning Actor & Filmmaker), Lisa Janae (Actor, Filmmaker & Founder of TERRA Visuals LLC), Craig T. Williams (Writer/Producer/Editor), and Yhá Mourhia Wright (Award-Winning Filmmaker & Actor, "#LoveMyRoomie").
Our discussion will be followed by an audience Q&A – see you there and come ready to take notes!
ABOUT QUINCY G. LEDBETTER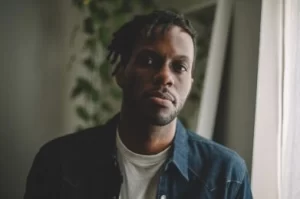 Quincy G. Ledbetter is a filmmaker, musician, photographer, and artist from Brooklyn, New York by way of Woodbridge, Virginia. As a self-taught jack of all trades, Quincy excels in writing, directing, editing, cinematography, and music composition. His work in digital media has won an Edward Murrow Award and an ASME Ellie Award for News Documentary (2018), an Emmy Nomination for Short Format Daytime Program (2017), and a Webby Award (2016 and 2021). Quincy has worked with notable organizations such as BET Networks, Paramount Players, NPR, Color of Change, Mashable, Mic.com, HuffPost, Vox, and The New York Times.  qledbetter.com
ABOUT DENZEL WHITAKER
Born in Torrance, California, Denzel Whitaker is best known for his award-winning role in THE GREAT DEBATERS, performing opposite of his two namesakes, Denzel Washington and Forest Whitaker. Numerous film and television shows list Denzel's name including fan favorites: BLACK PANTHER, CUT THROAT CITY, BET's ALIEU THE DEAMER, THE PURGE TV series, WARRIOR, U SHOOT VIDEOS?, and TRAINING DAY.In 2011, Denzel simultaneously began developing his skillset behind the camera as a filmmaker. Since then, he's garnered millions of views in the music video space, worked 5 years at Cartoon Network on hits shows including BOONDOCKS and BLACK DYNAMITE, and is a published fashion photographer. His latest film '5150', is an official selection at this year's Hollyshorts Film Festival and Tribeca NOW Creators Market. Co-written and directed by Denzel, starring Jovan Adepo and executive produced by David Oyelowo, the film is currently being developed into a TV series. Denzel is a dynamic, young filmmaker with a unique voice and a burning desire to tell stories about people of color we haven't seen before. View Denzel's work
ABOUT LISA JANAE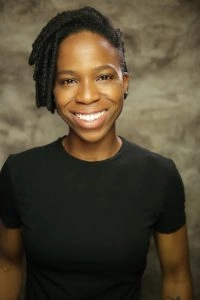 Lisa Janae is a director, cinematographer, actor, and editor from Los Angeles, CA. She has most recently co-starred on CBS in the shows FBI: Most Wanted and Law and Order: Organized Crime. Lisa moves with intention and is drawn to create art centered in the black, LGBT+ cultural experience. She is a SONY Alpha Female+ grantee, and her film work behind the lens has been featured on Amazon, Hulu, TedED, AfroPunk, The Los Angeles Herald, and other outlets. terravisuals.com
ABOUT CRAIG T. WILLIAMS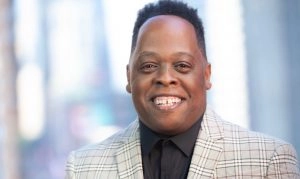 Craig and his extraordinarily beautiful and patient wife are approaching their 20th wedding anniversary. They have a spirited 16-year-old son and they make their life in the heart of New York City. Craig serves on the Board of Directors of FilmShop, a Media Producers and Independent Filmmakers Collective. He is also a member of the Harlem Dramatic TV Writers Workshop and the Black TV and Film Collective. Craig is a screenwriting mentor for the Craft Institute, the Writers 50/50 Screenwriting Fellowship, and for Reel Works, a teen filmmaking program in Brooklyn. Craig's one-hour TV pilot "How Ya Like Me Now", about the 80's rap rivalry between Kool Moe Dee and LL Cool J, won 2nd Place in the 2020 Page International Screenwriting Competition. It was also a finalist in the 2020 Film Independent Lab, 2020 Cinestory TV Retreat & Fellowship Competition, and the 2020 Stowe Story Lab Fellowship.  It was also selected for the 2019 IFP Episodic Lab. And was a finalist in both the Sundance 2019 Episodic Lab and the 2019 Tracking B TV Writing Competition. His feature screenplay "Hanging By A Thread" is about a man diagnosed with bipolar disorder who doesn't believe in taking medication, but when he discovers his 11-year-old nephew has the same condition, he kidnaps his nephew to show him a life free of pills. This project will be directed by Rosalyn, Craig's wife and it has Viola Davis attached as Executive Producer. "Allergic" a 30 minute comedy, won the ABFF/Turner best original 30-minute comedic pilot in 2018. It also made the 2nd round of Austin Film Festival. His latest 30-minute pilot "Call Me Daddy" about an emotionally stunted 40-year-old Black man, tired of waiting for Mrs. Right, who decides to have a baby on his own to be the father he never had," has won praises from industry execs. He is currently working on a new Black family drama and a Christmas movie musical. Craig has traveled the world. He loves tennis and makes a kick-ass Mac and Cheese that has brought guests to their knees. redwallproductions.com
ABOUT YHÁ MOURHIA WRIGHT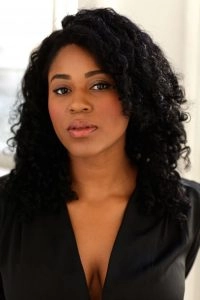 Yhá Mourhia Wright is a bicoastal, multi-hyphenate artist from San José, CA. In May 2016, she graduated with her MFA in Acting from the Actors Studio Drama School. Upon graduation, she founded her production company, YháWright Productions, and developed the company's first original series, #LoveMyRoomie, now streaming on Amazon Prime Video. During her previous time as the Senior Video Producer for MadameNoire, she simultaneously led production for three digital shows: Listen to Black Women, In This Room, and Healthy Her.
Yhá Mourhia has had the pleasure to interview beloved talents such as Kim Fields, Robin Givens, Dawn-Lyen Gardner, Ester Dean, and Emil Wilbekin. Additional Credits Include Spot A True Period Piece (Short Film, Producer, Assistant Director); Pillow Talk streaming on BET+ (Supporting); It Stays Here (Short Film, Writer/Producer); The Basement (LABryinth Theater Company, Writer). Her most recent podcast, Inside Out Podcast, can be found on iHeart Radio, Spotify, and Apple Podcast. She is currently the Programs Director of the Black TV & Film Collective. YhaWrightProductions.com
Like this event? Check out other upcoming events and member opportunities.